WHY CHOOSE INKJET PRINTING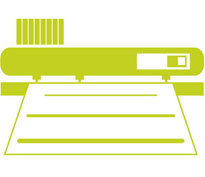 Inkjet Label Services
Small quantities, any size, shape or colours on various materials.
Give KER Graphics a call today on 028 9044 9949 and speak to a member of our team. From sophisticated product labels through to simple asset labels, we have your label printing services covered.
Our Inkjet label printing services are designed to give you complete freedom when choosing the number of labels that you need. This is the perfect option when you need smaller amounts of printed labels with no origination costs.
We can print our high quality labels in full colour on sheets and strips, and can cater for any shape and size of label. Whether you are looking for 10mm x 10mm or larger labels up to 500mm x 500mm in size, our inkjet printing services can fulfil your needs to the very highest standard. We can even cope with unusual or ornate shapes.
Our inkjet labels are perfect for many different applications, including:
Product labels
Address labels
Asset labels
Outside equipment labels
Food labelling
Jewellery labels
Essential oil bottle labels
And so much more!
Durable, Versatile and Eye Catching – Our Inkjet Labels Are Designed to be Noticed
When you need inkjet labels that can be used in all weathers and which last and last, our labels fit the bill perfectly. Fading will be a thing of the past thanks to our UV resistant materials, and we can weatherproof your labels too, thanks to the addition of laminate. Simply let us know what you need to use your labels for, and we will do the rest.
Over the years, we have worked with many customers fulfilling their label printing orders as quickly as possible and to their exact specifications. Our printing services are designed to adapt to your needs so that you get the labels that you are looking for fast, and can reorder quickly and with complete confidence.
Inkjet Label Printing to Suit Your Needs – Wide Range of Materials and Sizes Available
At KER Graphics, we ensure our customers have a wealth of choice when it comes to selecting the right labels.
Range of Materials – Gloss vinyl, matt vinyl, clear vinyl, brushed silver, block out, poster material
Range of Adhesives – Permanent, peelable, hi tac
Range of laminates – Gloss laminate, matt laminates, dry wipe laminate
Need Help with Design? Speak to our In-house Design Experts
Another aspect of our service that customers find invaluable is our in-house design service. This service really puts us above our competitors as we are able to offer professional design and print services under one roof. We can assist with everything, from creating a new bespoke design, to assisting you with uploading your artwork for printing.
We are also experts in adhesives and finishes, and can give you all the advice you need before your print run, so that you get the labels that meet your requirements in every way.